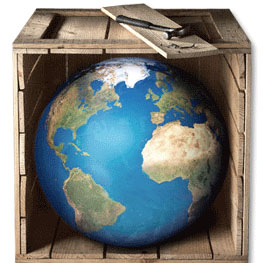 Kutter LTD pays special attention to the transportation of general cargo actively developing this line. Such transportation combines the convenience of delivery "to the threshold" with minimal transport costs. In addition we use the delivery by motor transport, as well as the schemes of combined transportation (air+motor, sea+motor) for freight of non-European origin.
The cargo delivery by small batches on the regular basis for freighting a separate cargo transport is especially actual at present. The consolidation on one truck of cargo for several customers brings to the decrease of transportation cost both for customers and for the carrier which allows to make this type of transportation the most effective one. The express delivery is possible by small-capacity trucks.
In our work we use both our own transport and the transport of our partners throughout the world, which allows to optimize the delivery cost and to propose optimal time of delivery to our clients. We'll deliver within the agreed time any cargo by weight from 1 kg to 22 ton from any point both to the customs terminal and to the warehouse of the final receiver. At the same time, if necessary, we'll provide your cargo with the necessary document and service accompaniment (packaging, labeling, palletization, paper work, performance of export procedure, consolidating at interim warehouses of freight batches from different consignors with the subsequent delivery to the consignee in the right number and right time, etc.).
In the course of delivery your cargo is insured from possible risks because the insurance of liability of the cargo carrier is drawn up for all shipping operations.
If you have any questions concerning the execution of customs and shipping documents we'll contact immediately your freight forwarder, our partners and solve all matters on the execution of the complete set of documents and customs clearance of freight. Already at the stage of execution you'll be able to receive the documents set in the electronic form.
In order to receive a more specific information contact us or send the request to us please.