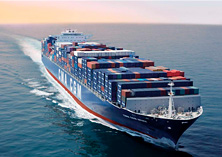 The overseas container transport is one of modern and most economic types of freight delivery used in the transcontinental communication. Kutter LTD includes the overseas transport into the multimodal schemes of freight delivery combining several types of transport. Therefore we can propose to our clients different ways of delivery (from the airport of sending to the airport of destination, "from the doors" of the forwarder "to the doors" of the receiver, "from the doors" of the forwarder to the airport of destination, from the airport of sending "to the doors" of the receiver). Advantages of overseas container transport: low cost of transportation, possibility of transportation by large batches of freight.
Main used sea ports:
in China: Shanghai, Ningbo, Qingdao, Xingang, Yantian, Xiamen, Dalian, Chiwan, Huangpu, Zhongshan, Fuzhou, Hong Kong;
in South Korea: Busan;
in other countries of South-East Asia: Keelung, Kaoshiung, Taichung, Singapore, Port Kelang, Penang, Jakarta, Surabaya, Semerang, Bangkok, Manila, Cebu, Saigon, Haiphong, Yangon;
in India: Nhava Sheva, New Delhi, Mundra, Kandla, Chennai, Cochin, Tuticorin, Kalcutta;
in USA: New-York, Boston, Virginia Beach, Los Angeles;
in Ukraine – Ilyichevsk;
in Latvia – Riga;
in Lithuania – Klaipeda;
other ports on the clients' requests.
Additional services:
Consultation of the forwarder of the possibility of freight traffic, development of the optimal traffic road.
Consolidation of small batches from different forwarders into one container for one receiver.
Separation of goods in a combined container into separate batches.
Control of containers.
Packaging, labeling and handling operations.
Warehousing.
Execution of the export, import and transit documentation.
Freight insurance.
Freight monitoring during transportation, delivery control, informing the forwarder and receiver.
Different ways of land delivery.
In order to receive a more specific information contact us or send the request to us please.